Born Shoes


Born Shoes' Review
By Rika Subana
Who needs shoes? I think these days' shoes have become our part of life. You couldn't live without them. So, what kind of shoes do you need? Well, it depends on what are you going to do with the shoes. One thing you should always remember as you buy shoes is comfort. Talking about comfort, Born shoes not only offer customers everywhere a brand that first and foremost provides comfort, but is also fashionable and fun to wear as well.

Born shoes have served customers since 1995. They offer a wide selection to men and women of style who have a young, free-spirited attitude about their footwear and lifestyle. You could find that it can be worn by all age groups including children shoes and their styles are as versatile as their customer base is diverse. Why are the shoes so comfortable? It's use the finest quality materials, so they can craft shoes that are durable, lightweight and flexible, allowing the wearer to walk as if they were barefoot. In addition, soft supple leathers and shock-absorbing foam ensure the foot is wrapped in comfort. Using the finest, high quality leathers, sourced from all over the world, they are designed for durability and also are refined for comfort, softness and style.

Natural shape is Born shoes' key design focus. they have a generous toe box, which allow the toes to lay flat and wiggle. This breathing room also permits air to circulate inside the shoe to help keep the foot more comfortable. Lightweight and flexible soles are used in every specific design to ensure each work is as comfortable as it is contemporary.



Classic style of thi branded shoes have been known using leather, instead of synthetic man made materials. As you know, leather is a natural moisture wicking agent and helps keep the foot dryer and cooler. Another special feature of them is the Dryz sock linings that is available in some of their sport style. The fabric sock liner acts as a moisture management system as it pulls the perspiration away from the foot and transports it to a layer of Dryz foam, where it is absorbed. The perspiration then turns into a dry gel like substance that evaporates continuously throughout the day. The Dryz foam also has special patented odor killing agents that fight the growth of fungi and bacteria.


If you want to try one of Born shoes selection, maybe you can try The Born Pandi. Many people have recommended the shoes. What's so special about this brand of shoes? Born Pandi shoes are so comfortable to use. It is cushioned but supportive and looks very cute with or without thin socks. The elastic on the heel is just enough to keep it in place without digging in to the skin. You could match Born Pandi with both brown and black pants. Of course, you can always match them with any jeans you have. These shoes would look great with casual skirts too and would be perfect for traveling and sightseeing.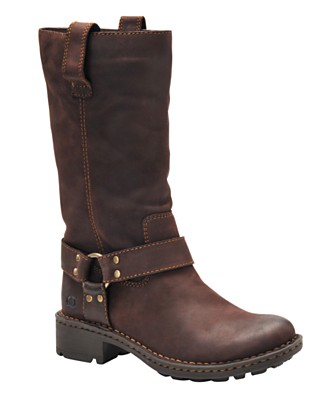 Born Shoes